Acrylic Signage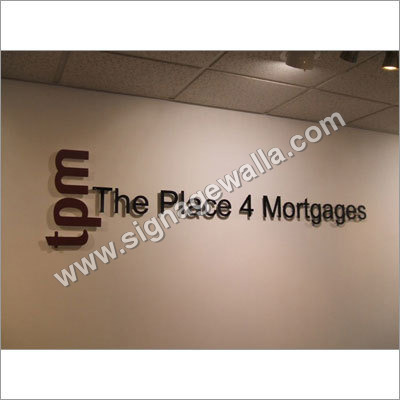 Acrylic Signage
Service Code : AS-17
Brand Name : SIGNAGEWALLA
'' We Are Only Dealing In Mumbai & Maharashtra ''
Acrylic Signages
Situated in Mumbai, Maharashtra, India, we are meeting the wide demands of the clients by providing Acrylic Signages installation services. In order to provide these services we are equipped with the team of highly experienced professionals who have in-depth knowledge and years of experience in the allied domain. By using quality approved raw materials and the sophisticated methods we are able to provide these signanges in variety of styles, patterns and sizes as per the clients' needs. Moreover, we offer these Acrylic Signages installation services at most economic prices to the clients.
Features:

Delivered in stipulated time framework
Driven in managed way
Offers satisfying results
Outclass materials are used for installation
Technical Specification:
| | |
| --- | --- |
| Product Name: | Acrylic Signage |
| Place of Origin: | Mumbai, Maharashtra,India |
| Size: | Any size |
| Material: | Crystal, acrylic |
| Usage: | Indoor and outdoor |
| Working life: | Over 100000 hours |
| Color: | According to the customer's requirement |
| Shape: | Customized |
Other Details:
An Acrylic Sign is accessible with the following alternatives:

Individual Acrylic Letters – The Stud mounted can be directly put on to your wall, or with spacers to help "float" the sign. These sole acrylic letters creates a shadow effect that adds intensity and interest to the sign board.

Cut Acrylic Logo Signs – Your logo, laser cut from hard acrylic sheets from 1/4″ to 1″ in width, painted to your choice of colours, and pin mounted to "float" all letters from the wall.

Metal Laminate Letters – For an attractive, stylish look you can add metal. Also to enhance your acrylic signs, one can use laminate faces in brushed or polished aluminium, or it can be brushed brass or polished brass. This can enhance the overall look.

Acrylic & Metal Panels – With your sign set up on an acrylic or metal panel, the strength and dimension are increased, offering an absolutely diverse appearance. Each letter is cautiously put together with precision on the panel which can be constructed from an extensive range of materials or metals, with varied colours and finishes.

Stand Off Hardware – A varied range of architectural stand off hardware in brushed stainless steel or in brass metal can be used to set up your acrylic signs or logos.

Lighted Acrylic Signs – Conventional acrylic signage can also be illuminated by back lighting. It can be backlit with the use of LEDs to give the similar feel as very well artwork displayed in a gallery. This overall impact helps make quite an impression and improves the look of the sign.

Choose from apparent acrylic signs, ice covered acrylic signs, regular acrylic sheet colors, or one may choose to have their own type of acrylic logo or signage painted in their own custom matched PMS colors.

Why Choose Clear Acrylic Signs?

These might be the best alternatives for you because:


They are light in weight and also very durable
These can be easily custom painted to go with your Pantone colors
Metal laminate over acrylic letters is a lucrative option to metal letters
Frosted or Iced acrylic logos & signs are a reasonable options to etched glass

Acrylic Signs Are Perfect for Interior or Exterior Use

Plexiglass signs work in the same way for both inside and outside usage. It works incredibly well as an emblem or logo or depicting a company name for the front entrance of a building. It can also be used as division signage for your retail store.

Looking for other alternatives? Whether your rationale for usage is in internal office signs or external business signs, you'll find a variety of possibilities with Impact Signs.

Can be used as:

Signaling
Prayers
Notices
Declaration of love
Logos
Trophies
Custom Texts
Lighting

Features:

They are elastic in function and style
They can provide made to order look with your preference of functionality
Though Light in weight but are very resilient in nature
These can be painted without difficulty as per the requirement
Metal laminate over acrylic letters
They are a cost effective solution compared to etched glass
These are ideal for external or internal use
The material utilised is not affected by humidity or UV light
They can be with no trouble hanged through clips, pins, standoffs, suction cups or screws

Note:

Material: they are available in the following dimensions 1/2", 1/4", 1/8", 3/4", 3/8" or 1" with wide clear acrylic (aka Plexiglass, Acrylite etc.)

Acrylic Sign options available:

Metal Laminate Letters
Cut Acrylic Logo Signs
Individual Acrylic Letters
Lighted Acrylic Signs
Acrylic & Metal Panel
Stand-Off Hardware
Trade Information
Main Domestic Market
Maharashtra
"We Are Only Dealing In Mumbai & Maharashtra."